We offer the processing of second hand habitability certificate called second hand if it refers to existing homes and required to transmit a house for sale, rent or cession and to register the services like water, electricity, gas and telecom.
A habitability certificate is an administrative document certifying that a home meets the minimum conditions of habitability provisions of the current legislation and is intended to be suitable for residence of people.
The data contained in the certificate are:
The address and location of housing
The surface area of the home and the number of rooms
The rooms and spaces that make housing
The maximum occupancy threshold
The identification and qualification of the person technique that facilitates the habitability certificate
In the certificate the name of the owner doesn't appear . It is a document that certifies the objective conditions of habitability of a dwelling, regardless of their owners or occupants.
From 1 January 2004 all homes must have the appropriate certificate in force.
Issued before 2004 expired in 10 years
the subsequently issued are valid for 15 years.
In order to make the certificates, we will need to visit the home and provide a photocopy of the script. In buildings prior to 1984, if it were necessary to other additional documentation, will be established before the day of the visit.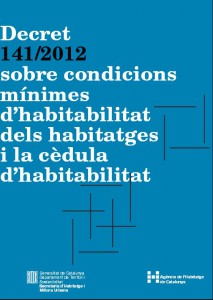 Link to the applicable regulations